The End of the World 4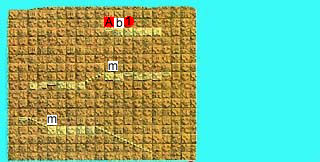 The first stone man will be blocking your path and when you move into his square, a block will fall from above and take him out of commission. (I think that if your party touches the stone man, they lose HP)
The second stone man will fall down by himself but fires off his arm like a missile when your party move past him. Your party might get hurt (I didn't experiment to find out <g>)
The Action Point at the top appears only after you battle the Clay Bird (HP 203). There will be more of these birds after this point.
The Action Point leads to section 5 of the wall.
| | |
| --- | --- |
| Number | Note |
| 1 | 110 G |
| b | Clay Bird |
| m | Stone Man |
| A | Action Point |