Twin Towers North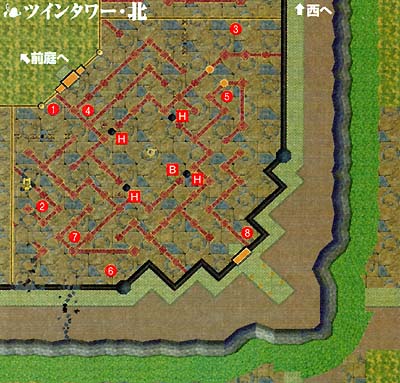 | | |
| --- | --- |
| Number | Note |
| 1 | 160 G |
| 2 | 480 G |
| 3 | 160 G |
| 4 | Sudden Deat Charm : Gives resistance to sudden death |
| 5 | Healthweed : Restores 80HP to 1 friend |
| 6 | Revival Stone : Revives fallen character once |
| 7 | Vacuum Scroll : 100 HP wind attack on all enemies |
| 8 | 160 G |
| B | Map Point |
| H | Gate Switch |
Access in and out of the inner square in each section of the Twin Towers is controlled by gate switches. One switch opens two gates while closing the other two which are open. So you will have to do a bit of walking around sometimes.
Once you get through the maze, you'll be in the Twin Towers Vestibule. You might want to explore the area before you go in as I don't know whether you can come back there later. (I never tried and didn't explore either <g>)
Go to the Twin Towers vestibule and let that scenario play out. You will have to watch yourself a bit with the Horned Toads but that's about it ...